Simon is one of the youngest coopers on the team. Graduating as a cabinetmaker, trained as a carpenter and luthier, he spends his time in the cooperage shaping the staves, and toasting the barrels, but has also spent time and improved, at the same time, on other tasks: assembly of the staves, trimming of heads, sanding…
Apart from his cooper work, he listens to and plays music, mainly jazz, reggae and rock for a perfect knowledge of the beat of toasting!
Toasting is a crucial moment in the production of barrels. What is it for exactly ?
First of all, there are two kinds of toasts:
Mechanical toasting or bending that allows us to give the final shape to the barrel. Thanks to the combination of water and fire, we soften the wood. Then, thanks to mechanical force, we bend the staves to give the barrel its final shape.
The "aromatic" toasting or "bousinage" is a stage during which we will reveal the organoleptic quality of the wood. The bousinage (also called "toasting"), allows for barrels to express distinct roasting aromas, spices, pastry, vanilla, coconut, etc.
The different stages of the toasting process :

What are the different types of toasting and their characteristics ?
For wine, we make a light toast (blond) or medium, medium + (balance wood/tannins) or longer toasts (Premium or Culte) which help soften the tannins and emphasize the fruit.
For Cognac and spirits, the toasts are more intense. The flames are larger which brings other aromas and colors.
How do you control the temperature to obtain one specific toast ?
The toasting areas are equipped with lasers (thermometers and pyrometers) that measure the temperature of each barrel and display it, in real time, on control screens. This allows us to have perfect toasting quality, reproducible from one year to the following. This also helps to assist the eye and hand of the cooper who uses his know-how, to adjust the flame using only pieces of oak as the fuel for the fire.
What tests are undertaken to check the quality of the product at the end of the process ?
Each toast is associated to a temperature curve model: toasting time, minimal and maximal temperature at the start.
A compliance with these criteria allows us to obtain success statistics as close as possible to 100%. Below a certain rate, the barrel will be rejected and used for repair staves.
If the rate meets our conformity standard, we will do a visual inspection (to make sure there is no defect). The barrel then goes to the workshop and the production process continues. Other tests will come after such as airtightness, hoop position, etc…
At each production stage, a visual check is done to rule out every possible defect.
Our barrels are identified by a series of numbers that determine, for example, their toasting conformity level.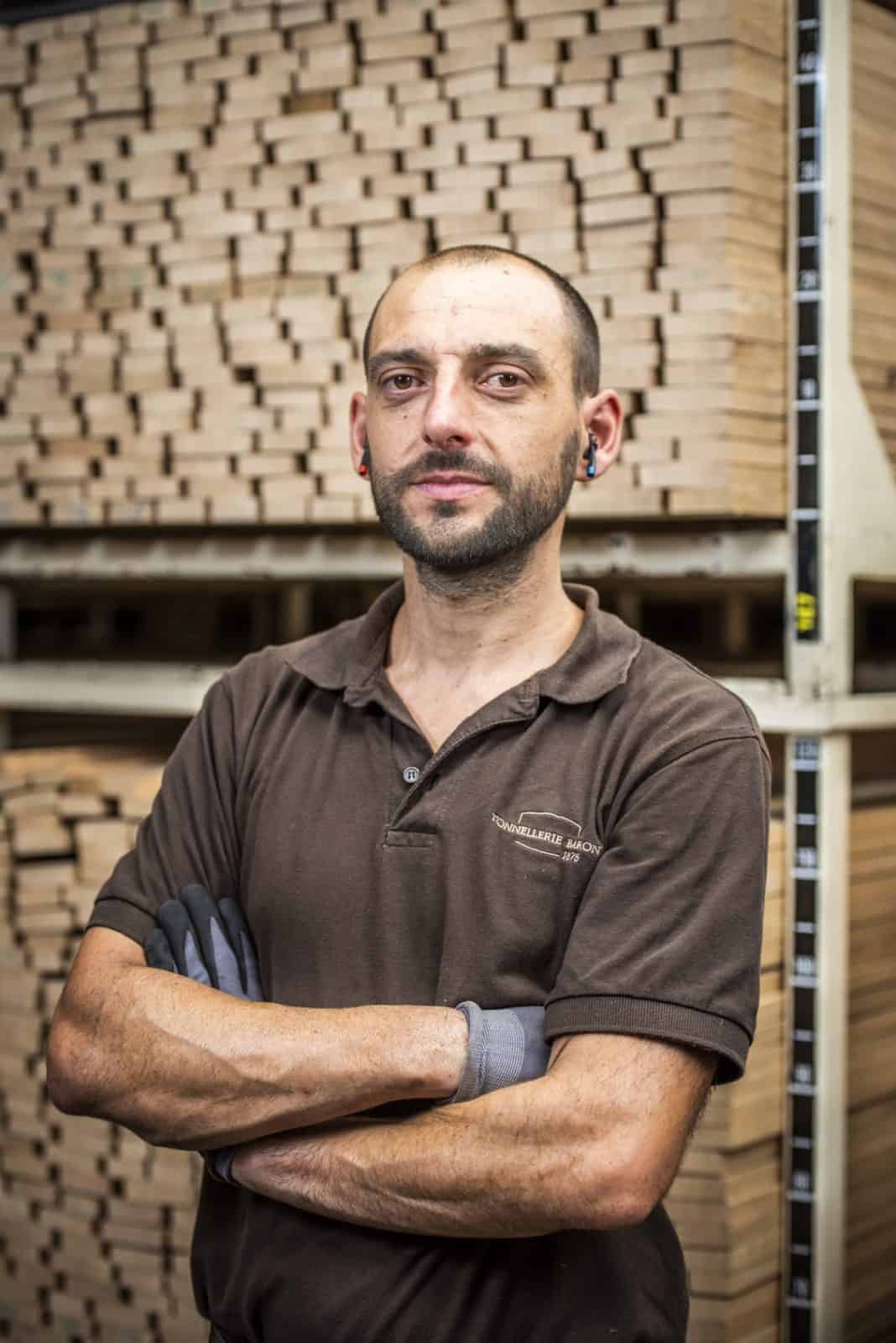 Simon Coutineau
Toasting Workshop Manager
at Tonnellerie Baron